VANCOUVER, British Columbia, Feb. 24, 2023 (GLOBE NEWSWIRE) -- Ximen Mining (TSXV:XIM) (OTCQB:XXMMF) (FSE:1XMA) received the draft of the Mines Act Permit, from the BC government, for the underground development program at its Kenville Gold Mine. The company has now received two permits in draft, one from the Ministry of Environment and this recent one from the Ministry of Energy, Mines and Low-Carbon Innovation.

A Media Snippet accompanying this announcement is available by clicking on the image or link below: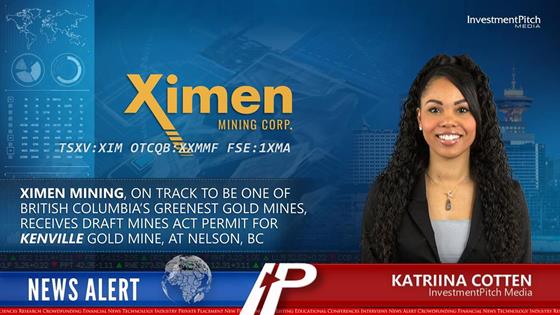 For more information, please view the InvestmentPitch Media video which provides additional information about this news and the company. The video is available for viewing on "InvestmentPitch" and on "YouTube". If these links are not enabled, please visit www.InvestmentPitch.com and enter "Ximen" in the search box.
The draft Environmental Permit was received earlier and has been reviewed and approved by Ximen. The company has now submitted its final responses and anticipates the final permit to be issued shortly.
The company's 100%-owned Kenville Gold Mine project at Nelson in southeastern British Columbia, was the first recorded underground mine in British Columbia, having started production in 1890 and mined into the 1950's. The historical production records show 65,381 ounces gold produced from 158,842 tonnes milled, for a recovered grade of 12.8 grams per tonne, or 0.37 ounces per ton gold, although management cautions that these are historic estimates and should not be treated as current mineral resources.
This important Mines Act Permit from the Ministry of Energy, Mines and Low-Carbon Innovation finalized items related to the permit area, shown on this map, and set the amount of the Reclamation Security Bond at $103,800.
It approved the following key activities:
Establishment of the new Venango Portal and 1200 m of decline development at this portal with associated re-mucks, safety bays and sumps.
Authorizes an underground exploration drilling program of 20,250 metres from the new Venango decline.
Establishment of one Waste Rock Storage facility of approximately 3,750 sq. metres.
Installation of surface water management structures.
Location of one portable office structure.
Onsite fuel storage using two 4,500 enviro tanks.
Christopher Anderson, President and CEO, stated: "The Company is very pleased with the permit draft and has reviewed the conditions that apply prior to and during the development program, a majority of which have already been met. Ximen is making a final review of the exact wording and conditions. Once our review has been completed and relayed to the Mines department, the final Mines Act Permit is expected to be received. This Permit brings us one step closer to, moving forward into a more sustainable self-reliant economy, working at expanding the art of underground mining, a long industrious trade that empowers those executing the work with a sense of accomplishment and pride, while maintaining our environment and utilizing hydro, a green energy source to advance the project."
The draft permit specifically requires that construction must be completed under the supervision of a Professional Engineer, including items such and development and implementation of a Ground Control Management Plan consistent with industry standards. A foundation inspection must be completed by a Professional Engineer prior to construction of a waste rock dump following the design and other recommendations prepared by the Professional Engineer. A monitoring well pair (shallow and deep) located near the underground workings must be installed and continuously monitored for water levels. Implement an Archaeological Chance Find Procedure outlining actions required if previously unknown heritage resources are encountered during project construction or operation.
It is management's objective to preserve this site as it has been for the last 100 years and create many impactful, meaningful and well-paying jobs for the region, as well maintain a small environmental footprint, aiming to be one of the greenest gold producers in BC and a leader in the industry.
In 2009, previous operators conducted detailed sampling on the 257 Level of the Kenville mine and based on the results, an historic mineral resource was estimated, showing 16,289 ounces gold in the measured and indicated categories, along with 356,949 ounces gold in the inferred category.
Ximen also owns 100% of three precious metal projects located in southern BC, the Amelia Gold Mine, the Brett Epithermal Gold Project, and the Treasure Mountain Silver Project adjacent to the past producing Huldra Silver Mine. Currently, the Treasure Mountain Silver Project is under an option with the option partner making annual staged cash and stocks payments as well as funding the project.
The shares are trading at $0.125. For more information, please visit the company's website, www.XimenMiningCorp.com, contact Christopher R. Anderson, President and CEO, at 604-488-3900. For Investor Relations, contact Sophy Cesar, at 604-488-3900 or by email at ir@XimenMiningCorp.com.
For more information, please visit the company's website, www.XimenMiningCorp.com, contact Christopher R. Anderson, President and CEO, at 604-488-3900. For Investor Relations, contact Sophy Cesar, at 604-488-3900 or by email at ir@XimenMiningCorp.com.
About InvestmentPitch Media
InvestmentPitch Media leverages the power of video, which together with its extensive distribution, positions a company's story ahead of the 1,000's of companies seeking awareness and funding from the financial community. The company specializes in producing short videos based on significant news releases, research reports and other content of interest to investors.
Disclaimer
The information in this InvestmentPitch Media Ltd video is for the viewers information only. Ximen Mining has paid a fee not exceeding $2,000 in cash to have its current news release produced in video format. The corporate information is based on information that is publicly available. Any information provided by InvestmentPitch Media Ltd., through its media services is not to be construed as a recommendation or suggestion or offer to buy or sell securities but is provided solely as an informational media service. InvestmentPitch Media Ltd makes no warranties or undertakings as to the accuracy or completeness of this information. All due diligence should be done by the viewer or their financial advisor. Investing in securities is speculative and carries risk.
CONTACT:
InvestmentPitch Media
Barry Morgan, CEO
bmorgan@investmentpitch.com