VANCOUVER, British Columbia, Jan. 12, 2023 (GLOBE NEWSWIRE) -- Ximen Mining (TSXV:XIM) (OTCQB:XXMMF) (FSE:1XMA) ) is proceeding with its plan for underground mine exploration development at its Brett epithermal gold property, which is located 30 kilometres west of Vernon, in southern British Columbia, where surface exploration has been delayed over recent years, first due to the pandemic and then due to access issues resulting from wildfire and flooding events. Airborne magnetic and LIDAR surveys were the only activities conducted.

A Media Snippet accompanying this announcement is available by clicking on the image or link below: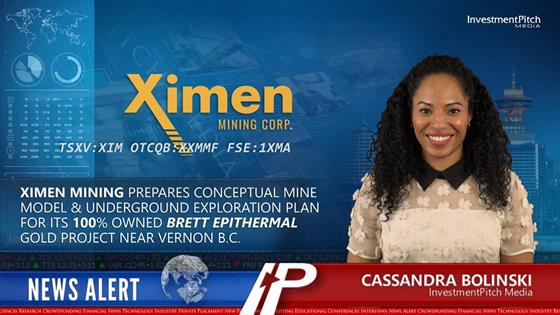 For more information, please view the InvestmentPitch Media video which provides additional information about this news and the company. The video is available for viewing on "InvestmentPitch" and on "YouTube". If these links are not enabled, please visit www.InvestmentPitch.com and enter "Ximen" in the search box.
The new mine development will provide access for underground drilling and explore the Main Zone to the northwest. This development will follow the Main Zone and provide points from which to test parallel structures by underground diamond drilling. It is anticipated that this program will result in definition of mineralized zones for underground bulk sampling. A permit application for the work has been submitted and is now in the early stage of review.
In 1996, a surface bulk sample was collected from the RW and TR-21 zones. A total of 291 tonnes at an average grade of 27.74 g/t gold and 63.7 g/t silver were smelted in Trail.
Significant mineralization in the Bonanza Zone is substantiated by several diamond drill holes, including historic hole 87-29, which intersected 25.24 g/t gold over a length of 8.62 metres.
Historic reverse circulation hole R88-11 intersected 69.52 g/t gold (2 oz per ton) over 71.6 metres in the Bonanza Zone, which prompted underground development to test the possibility of developing a high-grade gold mine.
Significant intercepts from 2016 were 18.95 g/t gold over 1 metre, 3.13 g/t Au over 1.1 m, 13.35 g/t Au over 0.58 m and 5.7 g/t Au over 0.5 m in holes 1, 2, 11 and 17.
Ximen is continuing to advance its conceptual fast-track development schedule for the Kenville Bulk Sample.
In addition to the Brett Epithermal Gold Project and the Kenville Gold Mine, Ximen also owns the Treasure Mountain Silver Project adjacent to the past producing Huldra Silver Mine. Currently, the Treasure Mountain Silver Project is under an option agreement, with the option partner making annual staged cash and stocks payments as well as funding the development of the project.
The shares are trading at $0.13. For more information, please visit the company's website, www.XimenMiningCorp.com, contact Christopher R. Anderson, President and CEO, at 604-488-3900. For Investor Relations, contact Sophy Cesar, at 604-488-3900 or by email at ir@XimenMiningCorp.com.
About InvestmentPitch Media
InvestmentPitch Media leverages the power of video, which together with its extensive distribution, positions a company's story ahead of the 1,000's of companies seeking awareness and funding from the financial community. The company specializes in producing short videos based on significant news releases, research reports and other content of interest to investors.
Disclaimer
The information in this InvestmentPitch Media Ltd video is for the viewers information only. Ximen Mining has paid a fee not exceeding $2,000 in cash to have its current news release produced in video format. The corporate information is based on information that is publicly available. Any information provided by InvestmentPitch Media Ltd., through its media services is not to be construed as a recommendation or suggestion or offer to buy or sell securities but is provided solely as an informational media service. InvestmentPitch Media Ltd makes no warranties or undertakings as to the accuracy or completeness of this information. All due diligence should be done by the viewer or their financial advisor. Investing in securities is speculative and carries risk.
CONTACT:
InvestmentPitch Media
Barry Morgan, CEO
bmorgan@investmentpitch.com